SP4™ by Mustang Vacuum Systems is the Industry's leading high wear coatings technology based on proprietary Hybrid DLC technology developed by our own Scientist and Engineers. SP4 (TM) represents our most advanced surface engineering capabilities to resist wear, lower friction, reduce scaling, reduce corrosion and extend the life-cycle of critical components in an almost unlimited range of applications. Our production scale equipment was designed, manufactured and installed by us to establish an affordable, high capacity coating services center capable of supporting high volume requirements for advanced coatings applications.

SP4 coating creates a surface that:
reduces friction
improve wear resistance
increases reliability
improves load capacity
reduces lifecycle part cost
SP4 provides:
excellent mechanical, electrical and thermal properties.
highest hardness for hydrogenated amorphous carbon coating
lowest co-efficient of friction
High resistance to acids and alkali attack
Biocompatibility

SP4™ KEY PERFORMANCE INDICATORS:
Automotive sector – Lower friction, higher wear/heat resistance, extend product life-cycle. SP4 coating has been race proven to perform significantly better than uncoated part.
Medical devices – High lubricity (non-stick), high wear resistance, biocompatible
Oil and gas – Excellent corrosion resistance in harsh environments, High wear resistance
Marine – Anti-biofouling and anti-scaling, corrosion resistance, hydrophobic
Firearms – Longer product lifespan (BCG), High hardness, high wear resistance, very high lubricity.
SUCCESS FACTORS:
SP4 coating can be applied to parts of various size and geometry.
Some of the coating characteristics are listed below,

Hardness: 2000 – 3000 HV (variable with process)
Thickness: 1 – 8 µm
Co-efficient of Friction: 0.05 – 0.08 (hydrophobic)
Elastic modulus: 180 – 220 Gpa (non-brittle)
Temperature: 350°C
Biocompatible: Non-toxic, non-cytotoxic
Salinity: 96 hours under modified salt spray-no effect
Fouling: Resistant to biofouling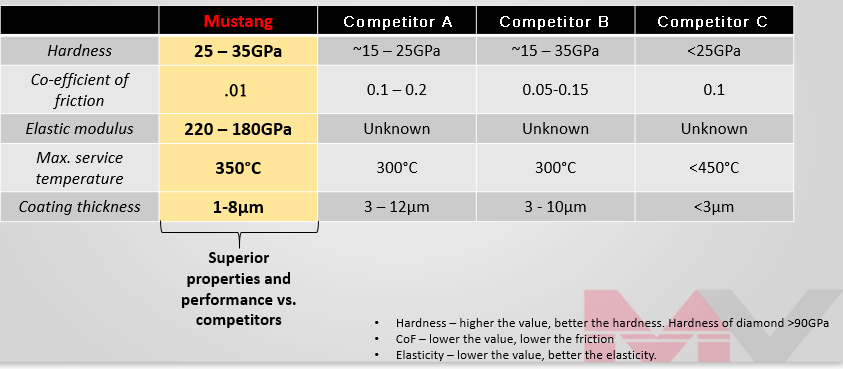 Applications

Tribological: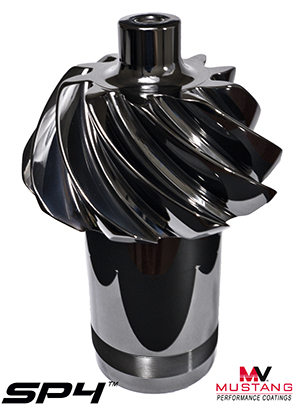 Automotive components
Medical devices
Firearms
Oil and gas industry
Cutting tools
Mold manufacturers
Optical:
Anti-reflective coating
Optical storage
Architectural glass
Interference coating
Electronics:
Low dielectric material
Solar cells
Storage media – hard disk
Performance Rating
High Performance Coatings for Racing Parts